Center for Contemporary Arts, screen, 1996; this is a Center in Warszaw (POL) where a presentation of video works produced by Forum Ljubljana & VPK & Bris was organized. We were there, and it was real nice.
the Channel Zero club - Metelkova, screen, 1993;
the first screening of Anti-Nazi video by artist Mirko Simic was conducted in the Channel Zero club at Metelkova, Ljubljana. That is a very important information.
the Channel Zero club - Metelkova, Ljubljana, SLO, cc, 1994 - 1995;
the Channel Zero club situated in the squated Metelkova (ex army barracks), was from September 1993

until April 1995 run by Strip Core members. The whole interiors were rearranged by Strip Core, and in that period over 40 cultural events took place there. Since the decisionmakers didnít support the idea of Metelkova becoming a cultural center, the reallity (no water, no electricity) didnít meet the basic conditions to run the program in the club any longer. Too bad.
Channel Zero, ps, 1994;


the poster designed by Strip Core announcing program in the Channel Zero club. Ever heard of Channel Zero?
Coloriamo lo sport, live;
this was in Milan (I) a kind of a grafitti International. "Stafek"
(

) and "Simpatiko" (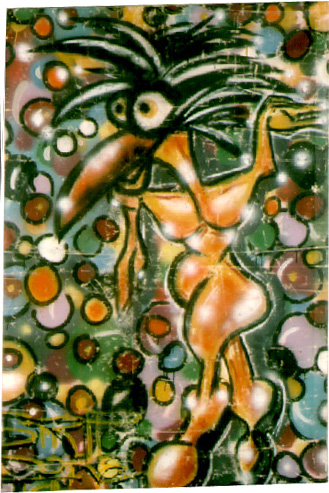 ) were made there.
Concert for Different Cultural Politics, ps, 1992; the poster for the event entitled Concert for Different Cultural Politics with which all the participants

tried to draw attention on current cultural politics in Slovenia; the concert was organized by Strip Core and the bands that took part were: Demolition Group (SLO), Obscurity (SLO) and Hardheaded Soul (NL). Lots of fun.
Cuzi, gr;

one of the Strip Core graffiti made for the 2227: Iíve Seen That... Like It Is video clip. Good looking, isn't she?